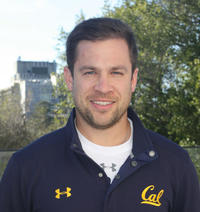 510-642-2331
#202 Simpson High Performance Center
Academic Development Coordinator - Football
Oversees academic progress and academic support scheduling  for all football student athletes.  Serves as the academic liason to the football coaching staff. 
Background
Joel is a Maryland native who received his B.A. in Psychology with a minor in Sport Studies from Gordon College in Wenham, Massachusetts. After working in special education for 3 years, he returned to school at Boston University where he received an M.Ed. in Clinical Counseling & Sport Psychology. During that time, he worked as an intern for Boston College in student-athlete support services. This experience fueled his passion for working with student-athletes and has now led him to the Athletic Study Center at Cal.
Outside of his education and work experience, Joel was a four year starter on the Gordon College men's lacrosse team (2007-2010) and went on to play after college as well, both professionally and internationally. He continues to play and currently maintains an assistant coaching position with the Cal men's lacrosse team.