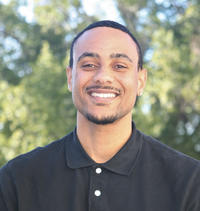 510-642-7189
Simpson High Performance Center
Academic Advisor
Provides coordination among the ASC Academic Advisors.
Advises and assists student athletes towards holistic development, including academic options and alternatives while understanding and complying with University, College, and NCAA rules and requirements.  Provides tailored academic counseling to maximize student athlete potential and academic performance while balancing athletic and personal commitments.
Background
Ed is a former student-athlete here at Berkeley.  Ed competed in the high jump on the track & field team and earned his Bachelors of Arts degree in Social Welfare.  After a successful athletic career at Cal, Ed continued competing as a professional high jumper while coaching at the University of Oklahoma and Clemson University.  Ed enjoys the physics behind the jumps events in track & field, but his biggest sports passion is his love for the Golden State Warriors.  Beyond his interests in sports, Ed thoroughly enjoys mentoring Bay Area youth and supporting the interests of youth beyond the realm of sports.